The mixed media art collections, linked below, feature hand crafted, one-of-a-kind, originals. They have been created by husband and wife artists, David Gilbertsen and Joy Wallace, to celebrate the simple beauty of natural, found objects. As three dimensional, tactile works of art, these invite your touch as well as your visual exploration.


"Let your mind wander in the pure and simple.
Be one with the infinite."    

     -Chuang Tzu, 4th century BC philosopher

Just updated for holiday gifts!!
Each of these 7x7 Zen-like, mixed media art pieces is a one-of-a-kind collection of pebbles and tumbled glass. The organic elements are artfully stacked into cairns, offering peaceful places to experience a moment of balance. Each three dimensional grouping is set against a unique, textural acrylic painted background. 
These small ones are often given as gifts: heartfelt and unique offerings.
A card explaining the symbolism of the stacked stones will be included for you to add your personal wishes to your gift.

View 7x7 Collection
Currently available only at the summer art festivals.
Online purchases will return in the fall.
These larger, 13x13 inch shadow-box framed art pieces add a contemporary organic statement to your decor. The three dimensional small, graduated beach stones are stacked as cairns with layers of tumbled colored glass. The colors and shapes harmonize with the acrylic painted abstract backgrounds for a soothing scene.
View 13x13 Collection
These mixed media art pillars are sized at 5 to 6 feet, adding a peaceful, organic presence to mindful, modern settings. Sandblasted niches, crevices, and channels give the sense of discovering and exploring a hidden place in nature filled with stacked stones, glass, and wood.
View Pillar Collection
Meet the Happy Sticks: simple celebrations of color, texture, and patterns. These playful accents are embellished with recycled glass beads from Ghana, weathered sticks, beautiful stones, and found treasures. 3 inches wide, 2 inches deep, 4-6 feet long. Your choice to hang vertically or horizontally to add some joy.
SHORTER 3 ft. versions were created recently. Images to be added soon!
View Happy Stick Collection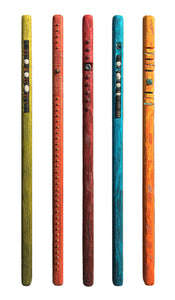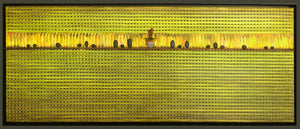 Canvas Collection
These paintings on canvas have been created using a hand made tool to pattern layers of thick acrylic paint. The result is a striking, tactile surface with the look of an organic woven textile, in a choice of gold, terracotta, turquoise, and avocado colors, embellished with stones stacked along a slender stick.
View Canvas Collection
The effect of wind and water upon the land, and the beauty of the resulting carved patterns upon stone and sand, have inspired this group of large mixed media art. Sandblasted surfaces, applied earthy textures, and calming colors combine to create inviting tactile environments. Enjoy exploring!
View Large Pieces Collection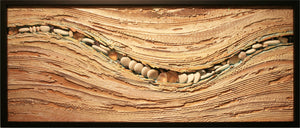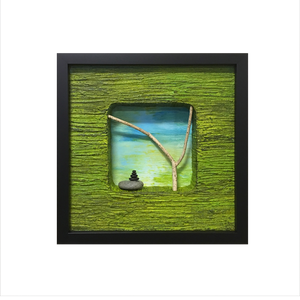 18x18 and 20x20
Our 18x18 and 20x20 mixed media pieces feel like small, recessed stage sets, complete with landscape backdrops. All are minimal scenes focused on just a few found objects that tell a story. Tumbled glass pieces, quirky sticks, and carefully selected stones interact in simple, yet sublime, relationships.
View 18x18 and 20x20 Collection